Writer's Café News
Writer's Café 2.42 - extra export options, and bug fixes
April 3rd, 2017

Version 2.42 adds options to the report template editor to tailor categories of styles for ODT export. ODT export is also improved by removing redundant spaces from the file.

A crash when dragging cards in wrapped mode has been fixed, as well as some other minor bugs.

For details, please see What's New.
Writer's Café 2.23 - Chinese user interface, Snow Leopard compatibility and more
September 15th, 2009

Version 2.23 brings lots of fixes, a Chinese user interface (thank you 谷志坚!) and Mac OS X 10.6 Snow Leopard compatibility. 2.23 has updates to the Spanish and German languages, and a German translation of the Getting Started guide. Users who have been experiencing slight sea-sickness when editing notes on the Desktop (because of the editing toolbar shifting the Desktop up and down) will be glad to know we've now put the toolbar at the bottom of the window, causing minimal window rearrangement. Other fixes include enabling AltGr for European language input, improvements to notebook and journal formatting style handling, numeric keypad Delete key support, and many others - see What's New for details.
JulianSmart.com site launched
November 17th, 2008

Not to be outdone, Julian Smart now has his own blog, mainly on software development topics.
PortableApps.com compatibility added
November 13th, 2008

In Writer's Café 2.18 we have added a special installer for compatibility with PortableApps.com, a great way to run Windows applications from a USB drive. For more information, please see the FAQ.
HarrietSmart.com site launched
November 3rd, 2008

Harriet Smart now has her own web site where you can read about her novels, and buy books and e-books.
Harriet interviewed on BBC Radio Scotland
October 27th, 2008

Harriet Smart was a guest on BBC Radio Scotland's Book Café, in which the author Robin Yassin Kassab was tasked with evaluating two software packages for writers - ours and a competitor's! Although writing software is not Robin's thing, it's interesting to hear his comments on different approaches and why he thinks our approach is preferable. List to the relevant part of the programme here.
Writer's Café 2 released
August 22nd, 2008

We are delighted to announce a major new version of Writer's Café. Version 2 contains hundreds of improvements, many new features, brand new writing tips, a complete user interface redesign, and improved support for netbook. For a summary of the main new features, please see What's New in 2.

Existing users can upgrade to the new version, and customers who bought Writer's Café 1 after May 1st 2008 are entitled to a free upgrade.
Writer's Café 1.28 released
December 7th, 2007

Writer's Café 1.28 has further adaptations for the Eee PC including a script to install icons in the standard IceWM start menu. There is also a Floating Card Editor sizing bug fix. Get Writer's Café 1.28 here. Special instructions for installing on the Eee PC are here.
Writer's Café 1.27 released
December 3rd, 2007

Writer's Café 1.27 adds Debian Linux and RPM packages, with improved Linux desktop integration. We've also added full-screen modes for Writer's Café Desk and StoryLines, and other adaptations for small screens, with an eye on the growing popularity of tiny notebooks such as the Eee PC. There are a few bug fixes including problems with project notes import and card icon display. Get Writer's Café 1.27 here.
Writer's Café 1.25 released
July 30th, 2007

Writer's Café 1.25 fixes a few bugs, and brings Mac OS X StoryLines story, character and location data entry into line with the Windows and Linux versions. Get Writer's Café 1.25 here.
Writer's Café 1.24 released
June 5th, 2007

We're pleased to announce Writer's Café 1.24, a maintenance release with a few bug fixes and better behaviour on Vista and Mac OS X. We're making the Mac OS X version free for the remaining 1.x releases. Get Writer's Café 1.24 here.
Writer's Café 1.23 released
March 29th, 2006

This release fixes a problem with navigating the Floating Card Editor, and also a number of bugs in the Mac version. In particular, we're pleased to support Intel Macs with our Mac OS X universal binary release: Writer's Café runs very fast indeed on the new hardware. See the Download page for the new release and a detailed list of changes.
Harriet Smart interviewed for The Writing Show
March 10th, 2006

Visit www.thewritingshow.com to hear Harriet Smart (co-designer of Writer's Café) in conversation with Paula Berinstein.

In a wide ranging, in-depth discussion Harriet talks about techniques for building successful, memorable characters, using characterisation to drive your story; and of course Writer's Café is discussed. The podcast is available in the MP3 format to download onto your audio player.

The Writing Show is a real treasure trove of a site with many revealing inteviews with well known writers, and lots of practical ideas to help with your writing: well worth exploring.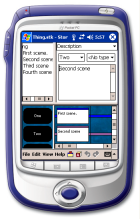 Pocket StoryLines beta available for Pocket PC 2003
March 4th, 2006

If you have a phone or PDA running Pocket PC 2003, try out the free beta of Pocket StoryLines! It's available from the download page. Let us know what you think. Useful, or just a curiosity? Of course, it helps if you have a portable keyboard, but you can use the software keyboard if you don't mind hunting and pecking with the stylus. Files are compatible with desktop versions of StoryLines, but as you'd expect, not all features are available on the Pocket version.
Writer's Café 1.22 released
January 14th, 2006

We've released Writer's Café 1.22, with some bug fixes, a couple of new features, and a release for the latest version of Linux from Red Hat (Fedora Core 4).

Bug fixes include better language support in the Unicode versions of Writer's Café - if you wish, you can now write projects and export reports in Chinese!

New features: an index for the Journal and Notebook to make it easier to find and navigate to pages; and the ability to add your own books to the Bookshelf. See the Download page for the new release and a detailed list of changes.
Computer Active reviews Writer's Café
January 11th, 2006

This month, Writer's Café had a five-star review in Computer Active magazine (January 2006):
"From its unique packaging to its thoughtful approach, this program stands apart from its rivals and it's clear that this is a package designed for writers by writers... In all, Writer's Café is an excellent package. It's ideal for serious writers who want to get the most from their creative ideas."
Writer's Café 1.21 released
December 23rd, 2005

Writer's Café 1.21 is out! We've added spelling checking to Writer's Café Desk Notebooks and Journals due to popular demand. We also have an all-new File Manager in Writer's Café Desk, giving a very quick method for backing up files, and adding the ability to group a Scrapbook, Journal and Notebook into 'configurations' (useful when loading a set of files from a memory key, for example).

Marc Albrecht has translated Fiction: The Facts into German, now available from the Writer's Café Desk menu tab as Einfach Schreiben! In addition, the German translation of the StoryLines user interface is now available on Mac and Linux.

This release sees Unicode versions available for all supported platforms - please let us know of any issues with Unicode versions, since we want to move to Unicode-only releases as soon as possible. Unicode gives much better adaptation to non-Western European character sets.

For the downloads and full list of changes, please see the Download page.

A big thank-you to our customers for their support over the past year. We look forward getting stuck into further enhancements to Writer's Café in 2006, including improved character and location databases, better formatting support, Mac version enhancements, a fully-translated German version, and - maybe - Pocket PC support. Merry Christmas, and have a Happy (and creative) New Year!
---
© 2017 Anthemion Software Ltd.
Privacy policy