Download HelpView
Windows | Mac | Linux | FreeBSD | Solaris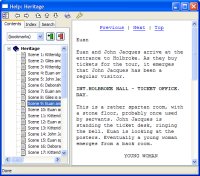 Anthemion HelpView is an application for displaying pages of help in a conveniently packaged form. It looks similar to Microsoft HTML Help, but is available on multiple platforms, not just Windows. Writer's Café StoryLines can output HelpView files, which you can then distribute to your friends and colleagues - create your own e-book in seconds.
HelpView is a version of the HTML-based help viewer that comes as part of the application development toolkit, wxWidgets. It is free to use.
The archive is a disk image; downloading will automatically mount it, and you can then drag the folder to an appropriate place, such as the Applications folder.

See the FAQ for how to install an application on Linux.
---
© 2017 Anthemion Software Ltd.
Privacy policy