Download Forty Thieves
Windows | Mac | Linux | FreeBSD | Solaris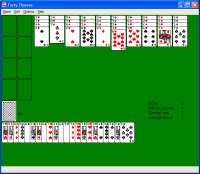 Forty Thieves is a fiendish card game, handy for letting the brain rest from its usual creative endeavours.
Forty Thieves is part of the application development toolkit, wxWidgets. It is free to use.
The archive is a disk image; downloading will automatically mount it, and you can then drag the folder to an appropriate place, such as the Applications folder.

See the FAQ for how to install an application on Linux.
---
© 2008 Anthemion Software Ltd.
Privacy policy