How can Writer's Café help you with your writing?
Writer's Café is a complete system for creative writing.
From your initial idea to a finished project, you'll find that Writer's Caf&eacute is a supportive and friendly environment in which you can achieve your writing goals.
Writer's Café's easy-to use-tools support the way you need to think and act to get to your goal. They will help you make the necessary mind shifts: with them you will discover how to think and behave like a writer.
Our clear and colourful interface makes it easy to find the tools you need to get going.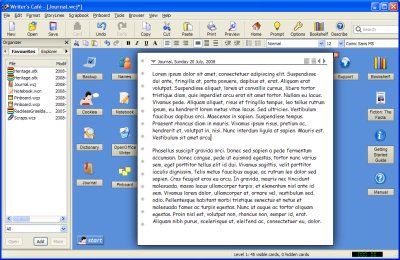 To download the demo, click here.
To buy Writer's Café now, click here.