The Product
About
Features
Getting Started
Buy
Download
FAQ
What users say
Screenshots
About Us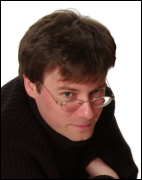 Julian Smart BSc, PhD, Technical Director, Anthemion Software

Julian is the creator of wxWidgets, a popular open-source, cross-platform application development toolkit with users worldwide. Other products include an HTML help authoring tool called HelpBlocks, and a tool for fiction writers, Writer's Café. Julian has worked for a variety of organisations that include the University of Edinburgh and Red Hat, Inc.

You can contact Julian here.